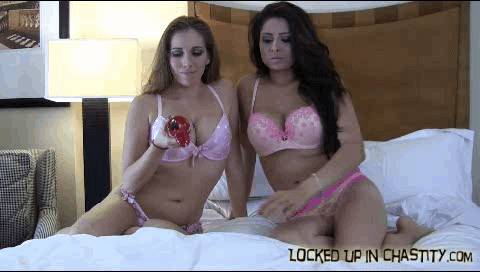 share gif:
Jasmine Mendez and Samantha Grace are interested in how you will react to their chastity requests. See, they don't want you have to have any control over your cock, and the easiest way to achieve that is to lock it up with a chastity device.
You chastity nightmare has just started, and we are totally in control of what happens now. You know the best thing about chastity devices? They come with two keys, so if I lose mine, we can still get you out with yours. Luckily, us two ladies can have one each, so you have absolutely no chance of getting your cock free.
Aw, look at how submissive you are. You are just the best slave, aren't you? Those balls are going to be begging to be released. We both love men in chastity, because that way, we know that when you go home, you aren't just jerking off like the slave you are. This way, we can ensure that your cock is only available for release when we want it to be.
- Jasmine Mendez & Samantha Grace