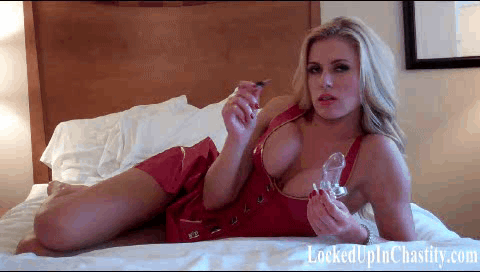 share gif:
Randy Moore is a classic blonde bombshell, but this beautiful fetish babe is anything but old fashioned. This tall big tittied blonde Randy Moore is a sexual dynamo who loves breaking men down and completely dominating them.

Your tiny little cock is useless to me, so I think I am just going to lock it up in a chastity device from now on. Since your dick is too small and serves me no purpose, you don't deserve to be able to use it either. Maybe if you weren't such a pathetic loser with a shriveled little dick I might have a use for you, but since that's the case you are just going to have to be my celibate slave.

If you think you know what blue balls are now, you have no idea what it's going to be like from now on. I am going to take every opportunity I can to tease you and make you uncomfortable while you are all locked up. Maybe one day after you have earned it I will let you out and allow you to cum again.
- Randy Moore